Extra Stability Insole
5015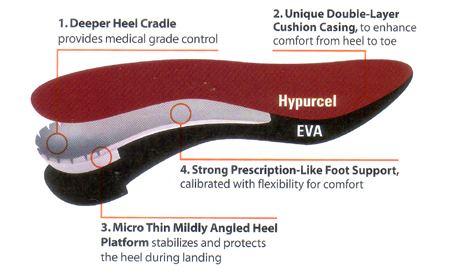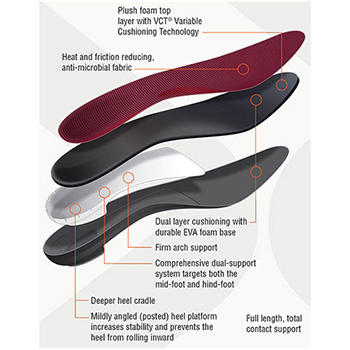 Features:
Rigid orthotic arch support
Full-length footbed
Strong, medical-grade foot support with flexibility
Antimicrobial top fabric that reduces friction and heat
Polypropylene support shell with 2 degree medial post to keep heel from rolling inward
Deeper heel cup
Shock absorbing double foam layer cushioning for extra comfort
Designed for people over 200 lbs that are looking for extra support
25% firmer than the Pinnacle
Accepted by The American Podiatric Medical Association
Made in the USA
Ideal For:
Shoe type: Work shoes, Boots, Athletic, Casual, Dress
Activity type: Work, Standing, Hiking & Outdoors, Casual
Arch type: All Arches
Flat Feet & Fallen Arches
Heel Spurs & Heel Pain
Metatarsalgia & Forefoot Pain
Over Pronation (Moderate to Severe)
Plantar Fasciitis
Sesamoiditis (Tendon Inflammation)
Supination (Rolling foot Outward)
Calluses
Hammertoes and Claw Toe
Bunions
Neuromas
Ankle and Knee Pain.
Instructions:
Wearing Instructions: Remove the shoe's existing insoles if possible and replace with your Powerstep insoles. Trim edges if needed to fit. If necessary, wear a few hours a day until feet are accustomed to better support, and then wear full time. Wear Powerstep in all shoes, even slippers, for continuous foot support
Care Instructions: Spot clean with a mild detergent. Do not immerse in water. Air dry only. Replace your Powerstep® insoles as needed depending on wear.
Warning: Not intended for persons with severe foot deformities or circulatory disorders resulting in infections or foot ulcerations. Consult your podiatrist or medical professional before using. Always consult a medical professional when experiencing persistent pain, discomfort or swelling.
Available in sizes:
A -Men's 4-435, Women's 6-6.5
B -Men's 5-5.5, Women's 7-7.5
C -Men's 6-6.5, Women's 8-8.5
D -Men's 7-7.5, Women's 9-9.5
E -Men's 8-8.5, Women's 10-10.5
F -Men's 9.9.5, Women's 11-11.5
G -Men's 10-10.5, Women's 12
H -Men's 11-11.5
I/J -Men's 12-13
K -Men's 14-15
L -Men's 16+
List Price: 40.50
To Order: Call us at 940-538-4058